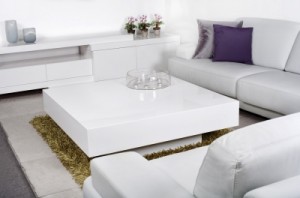 The majority of Real Estate agents in Australia work on a commission. Therefore as an agent, it's in your best interest to sell a property for the highest amount possible (which, not surprisingly, makes a very happy vendor too!).
First impressions definitely matter, so it's hugely important that the property you're presenting for sale looks its absolute best. Potential buyers aren't going to give it a second thought (or look) if they aren't impressed initially. Having a tidy and presentable interior, and particularly exterior, is essential because many people will drive past first before they decide whether or not to attend an open day or inspection.
But apart from the obvious clean up of the property, does property styling have any impact on the final sale price?
Research shows that it does. Styling your property can add an extra 7.5% – 12.5% to the sale price according to a survey conducted by LJ Hooker, so it can be a worthwhile investment.
What is property styling?
Property styling is all about using design and presentation techniques in a home to create a visual marketing tool. It's an easy way to increase the potential of the home. By doing this, you'll attract more potential buyers and ultimately get a quicker sale at a better price.
It's about decorating the home and garden and arranging furniture to highlight the best features of the property. It's not necessarily just about making it look 'nice'. It's about knowing what a potential buyer is looking for and appealing to that emotion.
What are the benefits of styling a property?
In a nutshell, if the home has been styled, you generally get more interested parties, a faster sale and a higher sale price. Figures show that for every $1 spent on styling, the vendor receives a $3 return on average. That's a pretty good investment, and certainly one worth considering.
It's even more important to have the property styled if its empty, messy and cluttered, or poorly decorated. Styling works best on more expensive properties, because the investment yields a better return.
Can the vendors style the property themselves, or should they use a professional?
If the vendors have a flair for interior styling, the property may look very presentable as it is. If not, there are plenty of professional home stylists about that they can consult with. Many offer a simple consultation and give advice on things that the vendors can do themselves. Others offer a complete package that includes hiring furniture, soft furnishings, wall hangings and home décor.
As a bare minimum, the vendors can clean the property, remove clutter and smells and clean up the garden. A fresh coat of paint can do wonders to transform a home, as well as polishing floor boards, getting carpet professionally cleaned and re-grouting old tiling.
The main advantage of using a property stylist is that they will see the property objectively, without any sentimental attachment. They also have experience in knowing what persuades buyers.
If the vendor can do the tough elbow grease work themselves and leave styling to a professional, the combination is likely to make the house look amazing and grab the interest of many potential buyers.
As an agent, your vendors might not have ever considered property styling, let alone know how to go about it. It's a great idea to get in touch with some of your local stylists and develop a relationship with them, so you have someone to refer your vendors to if they want to take advantage of professional home styling.