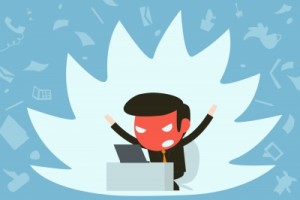 No matter what industry you work in, difficult clients pop up from time to time, and real estate is no different. Difficult real estate clients can be the ones who complain about your fees, want you to hold an open house every weekend or call you at 11pm on a Saturday. Or, they can just be unpleasant, don't follow your advice and are disagreeable no matter what you do.
These types of people won't go away, but you can change the way you deal with them to make your job easier. You might even win them over and generate some fantastic referrals from them!
Put yourself in their shoes…
If you've ever bought or sold a property before, you'll know how stressful the process can be. It's the largest financial transaction that most people will ever be confronted with, and this often brings out a range of reactions not normally seen.
It's also an emotional time, particularly if they have to sell their property due to financial worries or the death of a family member. Knowing their story can help you understand any frustrations they may have.
Your communication techniques can make all the difference
When you're faced with challenging clients and situations, how you handle them can make all the difference in the buying and selling process. Here are some techniques to help you manage things the right way so everyone is happy.
Control yourself. When a client is angry or confronting, escalating that confrontation will only make things worse. Stay rational and calm. Their anger is not your problem, so don't take it personally. Take a deep breath, end the conversation or walk away, and come back to them when everyone has calmed down.
Listen and understand. It's common for misunderstandings to occur, and often what you heard and interpreted from a client is not actually what they meant. Tone of voice and body language play a big part in this kind of communication, so use those to take clues as to what the person is saying. People want to be heard and understood, so aim to do that.
Set some boundaries. Some clients become very anxious about the sale of their home and want to check in with you daily, or even multiple times a day. Managing this communication in a positive manner is the key to setting realistic boundaries the client will be happy with. If you can't take their call then and there, let them know you'll call back within the hour. If you can't speak to them after 2pm, let them know you'll be available any time before 2pm (rather than using the negative and saying you're not available after 2pm).
Manage the clients' expectations. Clients may become what you call 'difficult' simply because you haven't explained the process to them clearly. If they're expecting their home to be sold in a week, but you know the average sale time for homes in the area is a month, you haven't managed their expectations very well. Make sure you explain everything clearly – viewings, open houses, offers and sale prices. You might have been through this process hundreds of times before, but for your client it may be the first time they've ever sold a house.
Clients who test your patience will never disappear. But, you can make a potentially awful situation a much better one with some good communication and a positive attitude.